Tanic provides Emergency Window Glass Repair and Replacement, 24 hours, 7 Days A Week. When your glass breaks, don't panic, call Tanic for emergency glass repair services.
We understand that you don't want to be left waiting around to have your glass repaired.
This is why we guarantee to be onsite within an hour of your call! Our experienced glass repair technicians will quickly assess the situation, remove all broken glass, and secure the location with a high-quality glass repair solution. If we can't fix it onsite, we will provide BOARD UP services to secure your location.
Quick and Efficient Emergency Glass Repair Across the GTA Glass can break anytime, but when it does, you can trust that our professional glass repair technicians will arrive on site within an hour to help you get things back to normal. Our team is fully educated about glass products and repair solutions, so we can handle any broken glass emergencies.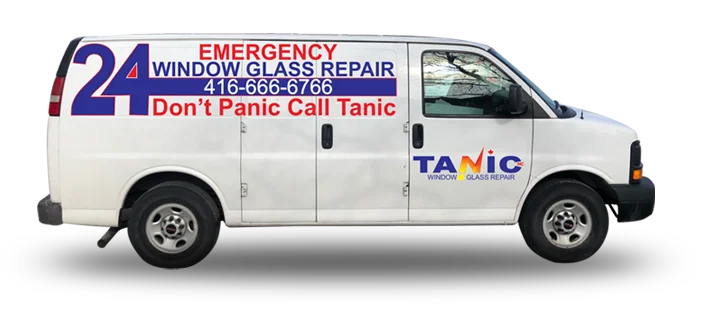 Contact Tanic for Emergency Window Glass Repair in the Greater Toronto Area To get a Free Estimate don't Panic call Tanic at
416-666-6766
This is how we provide quick and efficient emergency window glass repair solutions for your home or business:
1 hour response time for all Emergency Window Glass Repair services. GUARANTEED!
Glass clean-up and location securing services
Emergency window glass replacement
Temporary board up services
Emergency Glass Repair across the GTA, from Hamilton to Toronto, and Burlington, to Oshawa
Quick and efficient service once we arrive onsite
Professional and experienced Glass Repair technicians
A mobile glass company that comes prepared with all types of glass
Exceptional customer services. Satisfaction guaranteed!