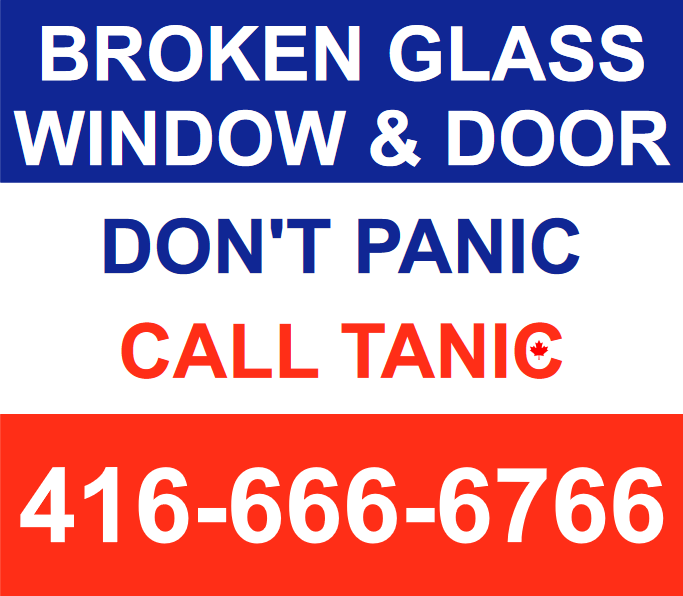 Windows and Glass Repair Scarborough
Tanic provides reasonable, quick, and reliable Window Glass Repair services in the GTHA area. We repair and replace the glass in the windows, doors, and storefronts at your home and office premises. We will collaborate with your insurance provider to ensure your glasswork is done without hassle. Additionally, our experts will advise on how to use glass efficiently on your property.
Windows and Glass Repair or Replacement Services in Scarborough
Our specialists are available 7 days a week and 24 hours a day to facilitate your glass window and door repair needs. Our prompt availability sets us apart from the competition. We at Tanic Windows and Glass Repair and Replacement Services in Scarborough know how important it is to protect your property in case of an accident or theft. Our expert emergency glass repair Scarborough team also provides safe, secure, and fully accredited boarding-up service any time of the day or night.
Windows and Glass Repair Scarborough, ON
Brocken door and window glass is a risky thing to watch out for. However, it would help if you immediately take care of any minor chips or cracks when you notice them. Contact us at Scarborough Windows Glass Repair Service immediately if you spot damaged or broken glass, as it might get worse and cost you more if left untreated.
We guarantee top-quality, same-day service with cutting-edge repair techniques. You can locate us online using the key phrase "window glass repair and replacement services near me."
Emergency Glass Repair
and Replacement,
24 hours, 7 Days A Week
When your glass breaks, don't panic, call Tanic for emergency glass repair services. We understand that you don't want to be left waiting around to have your glass repaired. This is why we guarantee to be onsite within an hour of your call! Our experienced glass repair technicians will quickly assess the situation, remove all broken glass, and secure the location with a high quality glass repair solution. If we can't fix it onsite, we will provide board up services to secure your location.
Windows and Glass Replacement Scarborough, ON
We are a specialized Window Glass Replacement Scarborough Company. With years of experience, our experienced technicians take pride in helping home, and business owners with their glass replacement needs round the clock anywhere in GTHA.
Working with us, you can ensure that you are teaming up with the top-most field experts and will receive the most efficient and impressive outcomes.
Tanic Glass is the perfect name if you are looking for a reasonable and reliable window glass repair or replacement Company in Scarborough. We offer 24-hour emergency window glass repair and replacement services anywhere in GTHA. Contact us to get quotes for your windows and glass repair or replacement jobs.
24-Hour Emergency Windows and Glass Repair or Replacement Service in Scarborough
We are available 24/7 regardless of where you are in GTHA. You can also call us for 24-hour emergency glass repair and replacement service. Within the soonest time possible, our team of expert technicians will show up at your defined address to offer you the best quality glass repair service.
Regardless of the time of the day, we get a buzz for an emergency glass repair. Our round-the-clock Window Repair Scarborough service ensures everyone's safety. We only focus on securing the area and ensuring everyone in the property and neighborhood is safe.
Emergency Windows and Glass Repair Services in Scarborough
Break-in damages or violence are the most common reason to opt for emergency glass repair services. This catastrophic problem will likely arise in industrial or commercial settings due to the damage caused by the dropped-off of heavy boxes or vehicles damages.
Our 24/7 Glass Repair Scarborough experts know the importance of keeping home and company possessions safe. Our round-the-clock Window Glass Repair Service is precisely designed to facilitate the needs of commercial and residential applications.
Residential & Commercial Windows and Glass Repair or Replacement Services in Scarborough
The front door is a crucial part of any residential or commercial structure. It contributes to the aesthetics of your property along with overall security. Our technicians are highly trained and experienced in dealing with any minor or significant residential and commercial Window Glass Repair Scarborough services anywhere in the GTHA.
Share the type of glass your window has and how it broke when you contact Scarborough Glass Replacement Services. Our service specialists will visit your location as soon as possible to fix the damage. Contact us today to inquire about door and Window Glass Repair in Scarborough.
Other Windows and Glass Repair or Replacement Services in Scarborough
We can work out all types of glass repair jobs ranging from minor glass shelf repair to any significant commercial storefront installation. Apart from mirrors, commercial doors, and windows, we also offer Window Glass Repair and Replacement services for Furniture doors, Shower Doors, and various other Glass Doors and Windows.
We focus on providing quick and quality service. Our team, at Tanic Glass, is dedicated to helping our customers with any problems they may have.
Why You Should Repair or Replace Your Windows and Glass in Scarborough
Our premium quality components and dedicated services ensure the success of every glass repair or replacement project we handle. We aim to offer speedy and reasonable solutions with window glass repair or replacement in Scarborough.
DIY the Broken Window Glass Replacement Process
If you need help or supplies to repair or replace your broken window glass, visit our store! Contact us or fill out the form should you want professional help to fix your broken door or window glass.
Call us today! Windows and glass repair Scarborough will facilitate your needs as soon as possible and at an affordable price.
Why Choose TANIC for Windows and Glass Repair in Scarborough?
The following reasons are good enough to determine why you should choose Tanic Window Glass Repair for your glass repair jobs.
Experience: Experience speaks louder than words! Our experience and services make us proficient and trustworthy in what we do.
Professionalism: Any Glass Work calls for expertise and precision to manage. Our technicians have precise knowledge, skills, and expertise to deal with all glass window repair and replacement jobs.
Affordability: We offer the most affordable pricing. Call us now to get the most accurate estimates for your glass repair or replacement Scarborough project immediately.
Timely Service: By choosing us, you can prevent unexpected expenses, hours, and stress. We focus on providing our customers with quick in-and-out Scarborough Glass Replacement Services.
Contact Us for Scarborough Emergency Glass Repair 24/7